Solar Panel Cleaning Services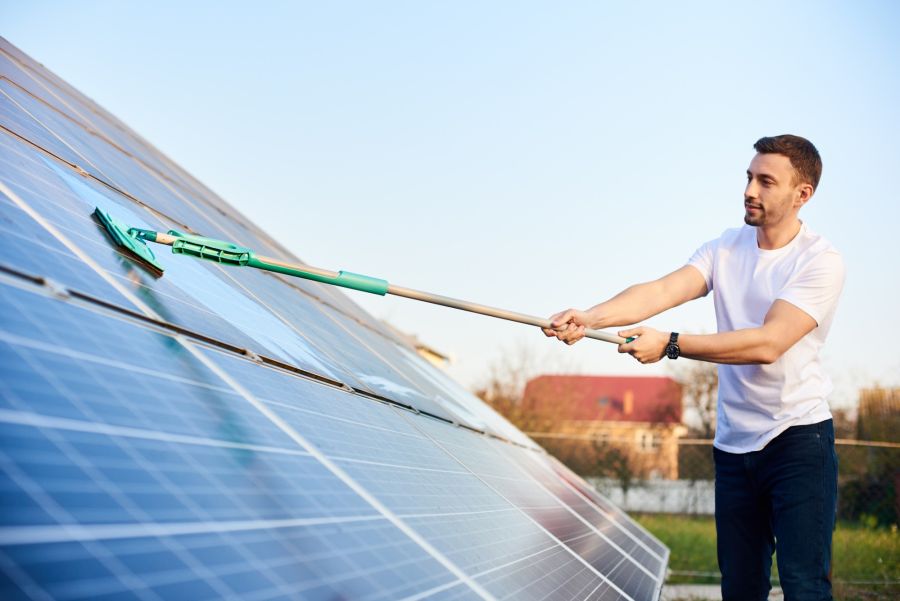 Installing solar panels is an excellent way to reduce your carbon footprint on the earth and lower your energy bills. Solar panels can be damaged easily. Having a professional from SeaBrite Cleaning take care of maintaining your panels is well worth it. When you call SeaBrite Cleaning, you will be working with panel cleaners who understand the best methods to keep them clean while carefully avoiding damaging them.
---
Call for a FREE Quote
---
How To Get the Most From Your Solar Panels
Keep the panels clean: This is the most important step and one that SeaBrite Cleaning can help with. Dust and dirt will accumulate on the panels, which will reduce their efficiency.
Check for damage: While on your roof cleaning your solar panels, SeaBrite Cleaning will also inspect the panels for signs of damage, such as cracks or broken seals. If you notice any damage we recommend that you have it repaired as soon as possible to prevent further issues.
Trim trees and bushes: Keeping trees trimmed will prevent them from casting shade on the panels. Even partial shading can significantly reduce the efficiency of your solar energy.
Keep the panels tilted: This is usually done when they are installed, but if they are adjustable, make sure the panels are tilted at the optimal angle to maximize the amount of exposure to sunlight. This will vary and depend on your location and the time of year.
Monitor your system: Use a monitoring system to track the performance of your panels and identify any issues that need to be addressed.
By following these steps, you can optimize your solar panel functioning to maximize your clean, renewable energy.
How SeaBrite Cleaning Cleans Solar Panels
SeaBrite Cleaning's team of solar panel cleaners takes the time can care to complete the job properly.
When wiping the panels is necessary, SeaBrite Cleaning uses a soft, dry cloth to gently wipe them down. If SeaBrite Cleaning's team finds that the panels are particularly dirty, they will use a hose to gently rinse the panels off, being careful to use just the right amount of pressure. Abrasive cleaners or pressure washers are never used, as these can damage the panels.
The panel cleaners at SeaBrite Cleaning prefer to clean your panels when the sun isn't at its hottest. When the panels are especially hot, the cleaning solution dries too quickly and can leave streaks.
If you live in an area that has hard water from minerals, you may notice a build-up of mineral deposits faster on your panels. SeaBrite Cleaning can work with you to develop a cost-efficient cleaning schedule to care for your panels and keep them functioning optimally.
Your cleaning team will also be sure to rinse the panels thoroughly with plain water after cleaning to remove any remaining residue.
Solar panels can be damaged easily. When you call (949) 990-3265, you will be working with professionals who understand the best methods to keep your panels clean while carefully avoiding damaging them.
---
Call for Fast FREE Quote
Dial Area Code first please.
---